Obama aide John Podesta Tweets he Regrets not Disclosing UFO Files
February, 17 2015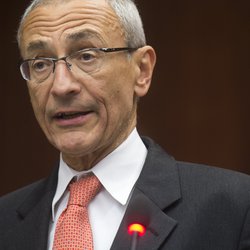 Long-term political aide and consultant John Podesta said in a tweet on February, 13th that one of his biggest failures working in the Obama administration was not disclosing UFO files and documents. He also added the hash tags #disclosure and #thetruthisstilloutthere which lead to thousands on Twitter talking about the FOIA and disclosure from the U.S. Government.
Apparently people have been submitting FOIA (Freedom of Information Act) requests to the Government about certain UFO files, but somehow they keep getting "delayed" or out right denied. Mr. Podesta said earlier in this administration that he would expedite the process, but has not done so. Probably because of pressure from higher ups that don't want the real truth to be disclosed. That's just speculation of course.
1. Finally, my biggest failure of 2014: Once again not securing the #disclosure of the UFO files. #thetruthisstilloutthere cc: @NYTimesDowd

— John Podesta (@Podesta44) February 13, 2015
John Podesta is not some no name person in the White House either. He worked for President Bill Clinton's administration as chief of staff and has been with the Obama administration since 2013 as a counselor. Both high up executive positions where he may have access to certain files that lower people in congress might not.
We, here at AUR, have collected thousands of these Government UFO documents sorted by agency. If you would like to go through them they can be found here.