The Holland Michigan UFO Sighting 1994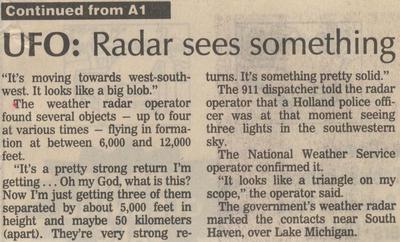 On March, 8th 1994 hundreds of witnesses reported seeing multiple UFOs at various instances, distances and colors such as white, blue, green and red around southwest Michigan. The witnesses included hundreds civilians around the town of Holland, police officers and even radar operators from the National Weather Service.
At around 9:30 pm operators at 911 began receiving calls about the unidentified flying objects by the several hundreds reporting what looked like "a string of Christmas lights way up in the sky." Because of the amount of calls, the 911 operators dispatched police and called the National Weather Service in order to confirm the sightings.
Listen to the 911 call here 24:13 MP3 File | WAV File.
The police confirmed and pursued the objects at the best of their abilities and the radar operators also confirmed the objects "could not be precipitation, especially at that height. One object was tracked moving twenty miles in ten seconds." One of the police officers that was on the scene Jeff Vellhouse, talked to the radar operator at the Muskegon radar said that the operator stated, "he had three things on his radar, and they were in a triangular shape. They hovered over Holland and moved southwest. He said that one would move out of the triangular pattern, then move back in."
The radar operator further reported that:

"There were three and sometimes four blips, and they weren't planes. Planes show as pinpoints on the scope, these were the size of half a thumbnail. They were from 5 to 12,000 feet at times, moving all over the place. Three were moving toward Chicago. I never saw anything like it before, not even when I'm doing severe weather."
After the incident, the National Weather Service denied the fact that these were in fact UFOs but never gave a clear explanation as to what they could have been. Even though there were hundreds of witnesses.
"There is no relation between the UFOs and the radar tracks," said Dean Gulezian, the weather service's area manager for Michigan.
RADAR MAP WITH OBJECTS
-Click for Large map-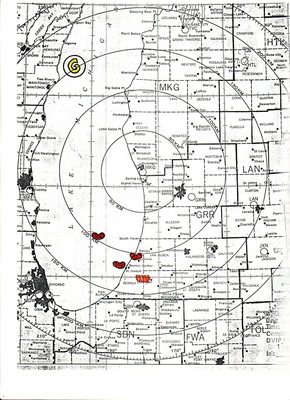 These UFOs were more than just lights in the sky or pinpoints on a radar, they moved with intelligence and with great maneuverability and speeds. At one point they would be on the radar at 100 feet and the next minute they would jump up to 12,000 feet. They would go in and out of formations and at times hit speeds of 1,000 miles an hour. Even if these were mistaken planes or other man made craft the maneuvers they were performing were not only extremely illegal but impossible to carry out.
Below are newspaper articles and documents from the sighting.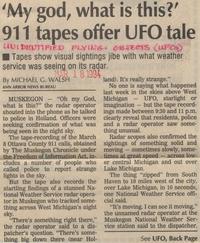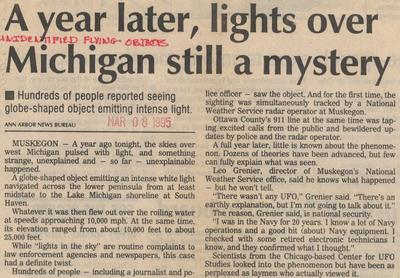 Freedom of Information Act on the Michigan case 01
(PDF)
Freedom of Information Act on the Michigan case 02
(PDF)
---
Comments