UFO Photo Over North Devon
January, 06 2014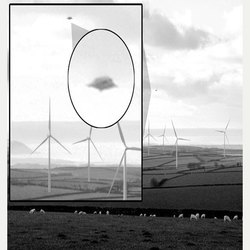 North Devon Journal Photographer Rob Tibbles spotted a UFO while going over some of his images that he had taken of a wind farm in the English countryside before the new year.
The unidentified object in the photo appears to be quite large and seems like a mix between the common "flying saucer" type UFO and the newer models we seem to see a lot of that are triangular in shape.
No other UFOs were reported during the time frame this was taken and the reporter said that he hadn't noticed it including sound.