Home
-
UFO Space and Alien News
Muliple Triangle UFO Sightings in Haskell County Oklahoma
November 17, 2010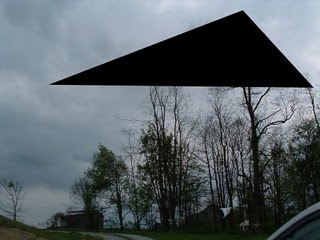 On two different occasions on September, 16th and October, 26th of this year multiple people living in and around Haskell County Oklahoma reported witnessing triangle shaped UFOs hovering silently and flying around the area.
The witnesses said the UFO was the size of about a city block, triangular in shape, blocked out the stars in the sky, and had white lights running down the side of it while hovering.
MUFOn investigated the UFO sightings and called them "credible" and that further investigation was needed. They also found a large patch of dead grass in the field where it was found that was reportedly not there before the incident.
After further investigation, Alien UFO Research found that there were more witnesses that had similar stories. A large black triangle UFO with rotating white lights that were seen while hovering.
"These are certainly not the only triangle UFO sightings in the US. There have been many over the years and plenty in just 2010" said Joel Richardson. And, we're sure there will be many more to come as they seem to be happening more often.
---