Home
-
UFO Space and Alien News
Large UFO sighting in New Jersey Leaves People Baffled
May 13, 2010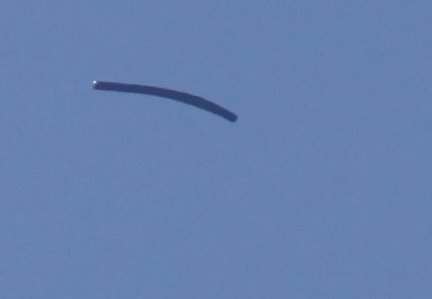 On Thursday afternoon local residents of Somerset County witnessed a tube like UFO in the sky. There were hundreds of witnesses that saw the object.
Police lines were flooded with calls about the UFO, enough to almost completely jam up their lines. Air traffic control was called, but they were not able to verify the object was there even though it was in plain site.
"I first noticed when all our mechanics started looking up at the sky," said Terry Weil, a sales associate at Honda Autosport in Bridgewater. "It looked like a big black strip fluttering in the air. Maybe a cylinder."
Somerville Police Lt. Donna Young said that the object caused no problems other than tying up the police phone lines.
"We have no idea what it was, but it did not cause any problems here in Somerville," she said. "We are under the impression that it might be a weather balloon or something like that, but regardless, it did not cause any problems whatsoever."
In the end the object could not be confirmed by any department and was thought it might be a weather balloon even though non were reported missing.
---