Home
-
UFO Space and Alien News
Horse Mutilation in Denver Found to be Caused by UFO and Aliens
November 17, 2010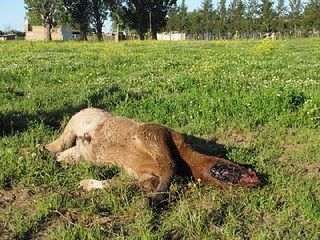 Cattle Mutilation has been an issue that aliens have long been suspected of being the culprit of. Many times in these mutilations the genitals and other parts of the cow are missing and many times the blood has been completely drained. Well Colorado is a big state with lots of cattle and mutilations are nothing new there.
In November, the Schneider family in El Paso County, Colorado found two of their horses dead and badly mutilated on their ranch. The horses were found with the genitals, tongues, and eyes of the horses removed as well as the chest and throats opened up. Also, there were no footprints as well as no blood found around the animal which sparked the owners to call in a paranormal investigator.
The investigator brought in was Chuck Zukowski who determined that aliens were to blame because of the lack of foot prints and the fact that there was no blood what so ever. Also animals wouldn't have done such a job and probably would have eaten the horse instead of leaving it there.
The local sheriff didn't agree with the idea that aliens were to blame for the mutilations and said that he thought an animal or people were to blame even though it wasn't consistant with an animal attack.
---