Home
-
User Submitted Encounters
UFO Image Taken in Swanage Southern England
Date Submitted: 08/30/2013
Visitor: Charlie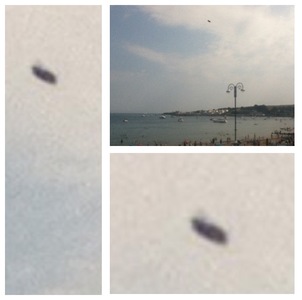 Hi, this is a photo I took over the seaside resort of Swanage in southern England, the original photo is in the top right hand corner, an I have zoomed in to the object on the other 2 and made a college of the image.
The story behind this image is quite disturbing, as I was taking a series of photos, in quick succession, panning along the coast with my iPod camera and on one, this appeared, I was looking out to the sea whilst taking these photos and didn't see any object at the time.
Explanations could be as simple as a kite or a blimp/balloon, but I will tell the honest truth and none of these where in view whilst taking the photo, neither a bird, also what this could be classed as, but there were no black coloured birds in Swanage and I would of noticed it with my own eyes if so.
As a UFO fanatic myself I was very impressed by my findings, but being a UFO fanatic you may think this would be a hoax, but it is not as I was in holiday and would not of had the time to create a hoax and if I'm honest I find hoax's a very annoying thing.
That is why I felt the need to send this into you as it is unexplainable to me or my family who was also with me and quite chilling as this could be a UFO captured on camera in England. As I swear this is no hoax and there is no other explanation, if you wish to get back in contact email me back, I hope you enjoy looking at what may be a groundbreaking image in English UFO's, thank you for your time and maybe some answers if possible, Cheers.
View Larger Map
---
---