Home
--
Submitted Alien and UFO Encounters
Strange ORB on Camera at Pete-Z-Area
Date Submitted: 02/07/2011
Visitor: Grant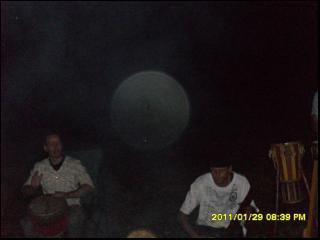 Attached is a picture taken at a drum circle gathering held in a place called Pete-Z-Area, an old country resturant where I live and also happens to be in what is known as The Cradle Of Human Kind.
We took 3 pictures all in the same minute. The first and third picture contained nothing but the drummers. The 2nd picture I have sent you to see for yourself. The moon was not out that particular night, no rain or wind, and was a cloudless evening.
Behind the drummers is a small mountain that can't be seen due to it being dark, and we were just snapping pics to upload to face book. Can you tell me what this is.
Also for your info;
I was a young boy, 1974, I lived with my folks in a place called Silverfields which is a suburb of Krugersdorp and that being Just outside Johannesburg South Africa +/-30KM. My entire family except my younger brother (as he was not born yet) saw a bright light come into view almost as if it just appeared. It seemed to hover above the hill, and after about a minute it shot off in a westerly direction faster than I can describe. In the blink of an eye it vanished, and have never seen something like that again up until about a month ago whilst watching a documentry on TV where a ball of light came shooting across the sky and vanished. When this video was replayed in slow motion one could clearly see a big ball of light passing a smaller ball of light, and as the big ball passed the little ball it seemed to suck the little ball into itself and continue with its straight trajectory. It never slowed down or changed its course, but continued straight on. This ball of light is similar to the one I saw as a child.
Pls confirm you read this and maybe (I hope) can share with me your views on what it is I saw, as well as what you think is in the picture I attached in this mail to you.
Kind Regards
Grant
---