Home
-
User Submitted Encounters
UFOs Over the Mississippi River Iowa
Date Submitted: 01/15/2013
Visitor: Steve
Message: Im a researcher with Bigfootsociety Upper Mississippi River Valley,Burlington,Iowa.While out takeing random photos of the islands that dot the Mississippi River,I captured some things I cant explain, The date was October 16th,2012, and the time was 3:30pm,I captured on film what I believe is ufos,alien creatures that are wearing bigfoot type suits,Ive tracked these crafts from washington dc,to west virginia,to kentucky,to Burlington,Iowa,to Cedar Rapids,Iowa,to michigan by the reports that other people have filed after seeing and photographing these crafts,so I asked myself what was going on on the east coast while these crafts where seen? Hurrican Sandy was going up the east coast during this time,I counted a total of 19 chevron,saucerand trianglur crafts flying around the top of this island,so I decided to check out the shore line photos and thats when I came acroos these unknown to me creatures.
Ive been a bigfoot researcher for 15 years in this area and have funnled alot of reports around this area the first thing I saw was the one sitting on the downed tree,the second was laying on its side,behind the first one,it was messing with something in the river with a stick,the 3rd one is to the left of the photo walking north,then I came to the creature ive never seen before,between the 1st one,and the 3rd one.
This creature appears to have his hood down on his suit and I could see his face, the skin color is a grayish-blue,football shaped head with what appears to be a pony tail type hair coming out the top of its head and thats wear i got frightened,I can deal with Bigfoot creatures but I dont know what these creatures are so thats why i sending these photos to you,maybe you can help me see what are in these photos.
I circled all the crafts and creatures in red so you could zoom in on them and when you do this youll see what im talking about.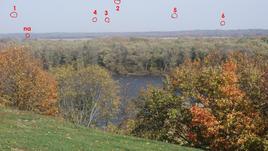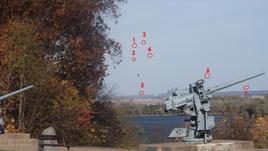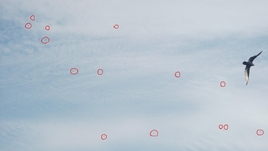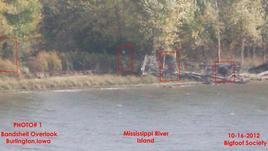 ---