Home
-
UFO Space and Alien News
UFO at Canadian Baseball Game (Video)
September, 10 2013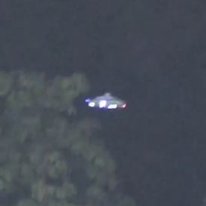 There's a lot of pop up flies in baseball, so people are always looking towards the sky. On September, 3rd in Vancouver, Canada a fan that was at a Vancouver Canadians minor league game sent us in this video of an unidentified flying object.
In the video it appears that a saucer shaped object with lights moves up over the tree line in right field into sight and seems to hover there for a moment while the game keeps on moving on without missing a beat.
Other people at the game saw it as well, and posted their experience on Twitter. (By the way you can follow us there as well.) Here's what people were saying:
After examining the video evidence it doesn't seem the video itself was tampered with, but I'm pretty sure it wasn't an extraterrestrial fan watching the game either. Personally I think it's a simple plane taking off or flying by at a distance giving it the illusion of a UFO hovering and then disappearing. If not that, then it may be a hover toy drone that are pretty popular right now and can resemble a UFO and often have lights on the bottom and sides.
If you have any video or pictures that you would like looked at please send them to us here.